If you are looking for a Windows Store app to protect your Windows 10/8 device from malware, NANO Antivirus Sky Scan could probably be the best bet for you. It is a freeware protection for your Windows computer, which is available a free safe download from the Microsoft Windows Store.
We have already had a look at NANO Antivirus, a desktop security software from the same developers. Today let us have a look at their Windows Store app for Windows 10/8.1.
NANO Antivirus Sky Scan
NANO Antivirus Sky Scan does have everything you'd expect in a Windows antivirus app. It is undoubtedly worth checking out the application. It has a lot of features that you will really enjoy. Also, with this reliable freeware app for your Windows device you also get notifications about the status of your device helping you to keep a check on the antivirus status.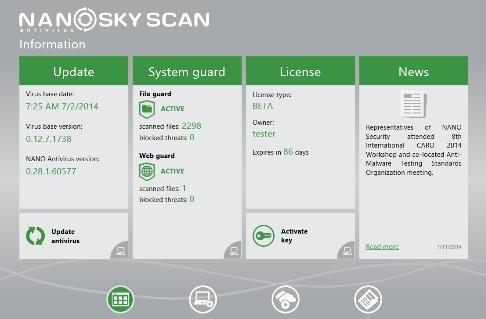 Nano Antivirus Sky Scan features:
Easy interface and simple to use
Totally free without any ad support
Scans and delete threats of wary files
The antivirus feature includes Cloud based scanning
Display status of your Antivirus Scan
It also comes in a desktop version
How Nano Antivirus Sky Scan app works
Nano Antivirus Sky Scan gives you a full package which you need to protect your device.  You install this application, scan for malware, and  remove the threat from your windows device if you find any. It is very simple to use it.
To use the cloud scanning service you can go to the additional sections of this application. It will display the status of your antivirus protection and also notify you with other information
With this freeware protection for your Windows device you can even set the time to scan and schedule scans.
This application also displays the recent news from the developers of Nano Antivirus Sky Scan.
NANO Antivirus Sky Scan makes use of cloud scan service of NANO Antivirus. It can be used both as completely independent application or as functional tool for managing the desktop version of NANO Antivirus, if you have it installed on your device.
Visit the Windows Store to download the application. It runs on Windows 8 or higher.