This Healthy Computing Guide from Microsoft is designed to help you be more comfortable and productive while using your computer. It may also help you reduce your risk of experiencing painful and disabling injuries or disorders described in the following Health Warning.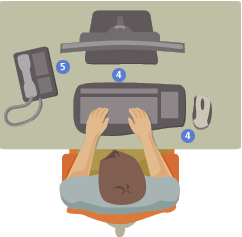 Healthy Computing Guide from Microsoft
An Extract:
When using a computer, as with many activities, you may experience occasional discomfort in your hands, arms, shoulders, neck, or other parts of your body. However, if you experience symptoms such as persistent or recurring discomfort, pain, throbbing, aching, tingling, numbness, burning sensation, or stiffness, DO NOT IGNORE THESE WARNING SIGNS. PROMPTLY SEE A QUALIFIED HEALTH PROFESSIONAL, even if symptoms occur when you are not working at your computer. Symptoms like these can be associated with painful and sometimes permanently disabling injuries or disorders of the nerves, muscles, tendons, or other parts of the body. These musculoskeletal disorders (MSDs) include carpal tunnel syndrome, tendonitis, tenosynovitis, and other conditions.
For example, to minimize eye strain, try the following:
Position your monitor about an arm's length away from you when seated comfortably in front of it.
Avoid glare by placing your monitor away from light sources that produce glare, or use window blinds to control light levels.
Remember to clean your screen. If you wear glasses, clean them also.
Adjust your monitor's brightness and contrast.
Adjust onscreen front sizes to make viewing more comfortable for you, if your computer program has this feature.
The Guide only takes a moment to read, but the benefits can be lasting.
Visit Microsoft for a full read.
You can request the CD version of this "Healthy Computing Guide" at no charge by calling 1 (800) 360-7561 (in the United States only).
You may also want to check out this Healthy Computing Guide for Employees and Employers.