Here's a new Microsoft Research Add-in for Outlook! It's called Mañana Mail. It's an Add-in for Outlook which will allow you to send an email at 9 AM the next day (or any time set) and also provide about 10 seconds windows to Undo sending an email after pressing the send button. Let us check some more details about it.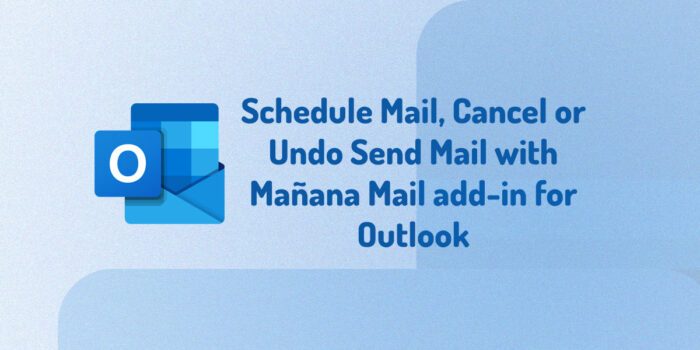 Mañana Mail add-in for Outlook
This is what the product description at Microsoft Research says –
"Faster is not always better. With the Mañana Mail add-in for Outlook, you can send an e-mail at 9am the next day with a single click, and you can edit or cancel it up until that point. It also gives you about ten seconds to undo sending any email. Research shows that important emails are often not urgent. Give yourself the chance to think it over, and let the recipients read it carefully at work instead of while they are distracted at dinner."
Please Note Mañana mail send works when your computer is online and connected to the Exchange server. Else you'll get Error message such as '"Sorry, Exchange ActiveSync doesn't support what you're trying to do." Still one can give it a try if one is not on Exchange Server.
Once you have downloaded the add-in, install Mañana Mail. When you compose a new mail, you can see the Mañana Mail send at option.
Schedule sending of mail
This add-in allows you to schedule your mail to be sent at the specified time, it could be even the next day. For example, if you are preparing a mail in the afternoon, you can schedule it to be sent at 9: 00 AM, so it gets sent the next day morning. And in between that time you can think it over the mail so you can edit or even cancel the mail. All this by just pressing Mañana Send button.
So while using this you should be online. And the next day as you had set it for 9:00 AM, it'll be delivered at 9:00AM whether your computer is on or not. To edit or delete the Mañana sent mail, check the Outbox for the mail. It'll appear in Sent mail after its sent and will be delivered at scheduled time.
Another way of sending it via Mañana is when you press the normal Outlook send button, you'll be provided the option at bottom right , a blue box, to send at particular time set. So you can send it using Mañana at that time also.
Cancel or Undo Send Mail
In the same blue box, there's an 'Undo' button option also. This blue box appears for about 10 seconds, so you have about 10 sec either to undo or use the Mañana send button. I am again reminding you that this Mañana send option works when you are connected via the Exchange server.
How to change the Mañana send time
In the Outlook, Click on File > Options > Add-ins >Select Mañana Mail
From there you get the option to set the timings.
As you can see, this can be a very useful tool for scheduling your mail and Undo send in Outlook.
You can download Mañana Mail add-in for Outlook from here.
How do I cancel a scheduled email in Outlook?
All the scheduled emails are stored in the Outbox in Outlook. No matter whether you use it on Windows or any other platform, the rules are the same across all platforms. Therefore, you can switch to the Outbox and find your scheduled emails. Following that, you can delete the email and move it to Trash.
How do you enable Undo send in Outlook?
No matter whether you use the Outlook Web version or the desktop application, you can use the Undo Send option in Outlook. That said, you can go to Settings > View all Outlook settings > Mail > Compose and reply. From here, you can choose the Undo send timeout. Next, you need to set a time and click the Save button. Once done, you can find the Undo option right after sending an email.
That's all! I hope this extension helped.