In Windows 7, on the extreme right side of the taskbar, you will see a vertical rectangular portion. Moving your cursor to this area will make the open windows transparent and let you preview your desktop. Clicking on it will show the desktop. This is called the Desktop Preview feature in Windows 7.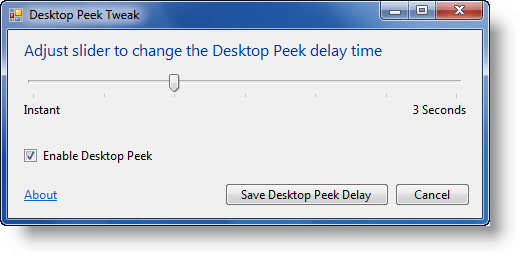 Desktop Peek Tweak for PC
One can always shorten this time and make the Aero Peek Desktop Preview appear faster by modifying the Registry.
But alternatively, you can use this freeware portable app to do so easily:

Desktop Peek Tweak allows you to adjust Desktop Peek delay time when you hover the mouse over the Desktop Preview button.
The default value is 1 s or 1000 ms. Shorten it to 'Instant' if you like to have the desktop appear almost instantaneously.
Visit its Download Page for details.