As a security measure, you may want to lock your Windows 10 computer, after a certain period of inactivity, so that when you are away from it, no one will be able to access it – and even you will be able to access it only after you enter your password.
Lock computer after inactivity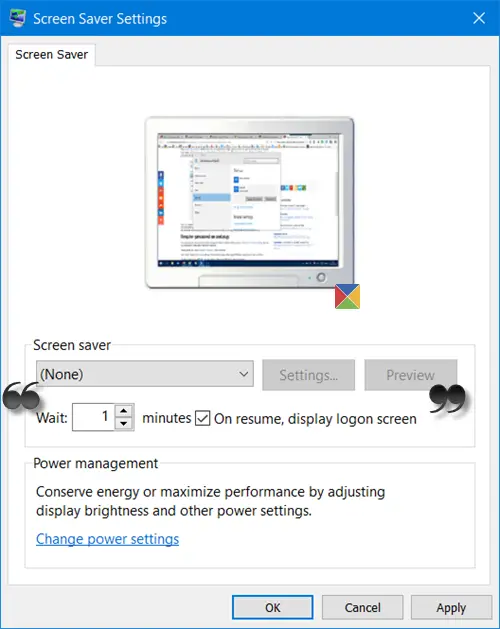 Well, if you would like to do this, the procedure is pretty simple and hasn't changed since the last few iterations of Windows OS.
To make your Windows 10 computer ask for a password after a period of inactivity, type screen saver in the taskbar search and click on the Change screen saver result which appears.
The Screen Saver Settings box will open.
Here under Wait – minutes – On resume, display logon screen settings, select the time after which you want Windows to ask for a password, and check the On resume, display logon screen box.
Click on Apply and exit.
If you have set the time at 10, then after 10 minutes of inactivity, you will be asked to enter your password, to be able to access your PC.
If you do not want a screen saver to be displayed, select None. If you wish to display it, you can select one. This setting is just above the "Wait …" setting.
If you wish, you can also make Windows 10 PC require a password on wakeup from Sleep.