Many leading brands have partnered Windows and announced their Windows 8 machines. Here is a list of some Windows 8 tablets, which are expected to be announced along with or soon after Windows 8 General Availability on 26th October 2012.
List of Windows 8 Tablets & Ultrabooks
Lenovo IdeaPad Yoga (Windows RT)
Lenovo sometime ago announced an ARM variant of the 13.3 inches IdeaPad Yoga convertible laptop-tablet, demoed earlier at CES 2012. And the result of it is the touch-screen ultrabook in the form of Lenovo IdeaPad Yoga (Windows RT). The lower-powered model is expected to boast, double the battery life of higher-end Intel-powered counterpart.
Lenovo ThinkPad Tablet 2
It's Lenovo all the way! The new tablet in the ThinkPad series has something special inside (Windows 8, instead of Android OS) plus; some really excellent media, security and management tools. It will be a Windows 8 Pro tablet. You can read more about the Lenovo ThinkPad Tablet 2 here.
Asus Taichi
It is a slim and stylish Windows 8 machine that combines the power of an ultrabook and portability of a tablet with better connectivity (Intel Ivy Bridge Core i7 processor, fast SSD storage and dual band 802.11n Wi-Fi). The laptop/tablet hybrid has dual screens with touch-screen being on the outside of the lid.
Asus Transformer Book
This is a device of its own kind! It is the first Windows 8 machine to feature a front-facing HD camera with a 5MP rear camera alongside plus; plenty of other features such as latest Intel Core i7 processor, 4GB DDR3 RAM and HDD storage. The convertible ultrabook with a detachable keyboard will also feature Asus Sonic Master Technology to improve the sound quality.
Acer Aspire S7
Boasting looks somewhat similar to MacBook Air, Acer Aspire S7 is a Windows 8 Touchscreen ultrabook having a unique design. The standard configuration of the tablet: Intel Core i5 Ivy Bridge processor, 128GB SSD storage, 4GB RAM. Expected battery life: 9-12 hours, depending on the model (12 hours for the 13.3 inch and 9 hours for the 11.6 inch).
Acer Iconia W700:
Another tablet from Acer to join the Windows 8 league! Acer Iconia W700 on the outside is covered by a sharp aluminium frame and on the inside by 11.6-inch Full HD touchscreen. Plus, it has USB 3.0 ports on the sides and Dolby Home Theater for enhanced audio. Not to be missed, the Iconia tab comes with a multipurpose cradle that can position the tablet in portrait mode for more comfortable reading or web browsing.
Acer Iconia W510:
The 10-1-inch Iconia W510 has a dual-purpose. It can shift between a standard tablet mode when touching the screen and a type mode when requiring typing something. Thereby, offering best of the worlds, tablet as well as a notebook. Its detachable keyboard dock can rotate 295 degrees and extend the battery life up to 18 hours.
Microsoft Surface
And finally we have the Microsoft's proprietary Surface tablet. It will be available in 2 versions, Surface for Windows RT and Surface for Windows 8 Pro. Both the version will feature the same size screen display and a built-in kick stand but will vary in weight, latter being heavier. You can read more about Surface Tablet features here.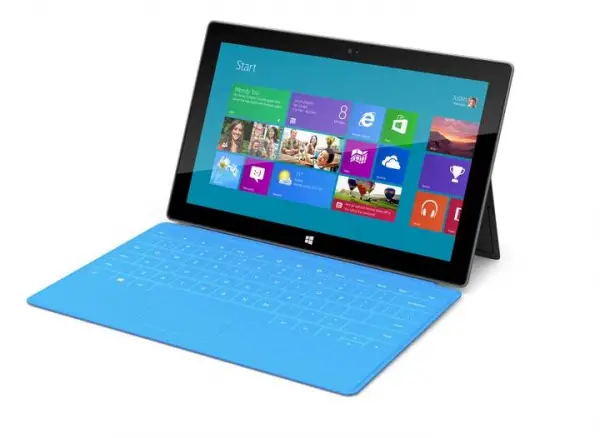 The release date of all the above mentioned tablets and devices are expected to coincide with the launch date of Windows 8 OS, i.e. 26th October 2012.
Image Credits: MSN UK.