Sometimes I wonder, why to click twice when clicking once can do the job!? One of the first things I do after a fresh Windows install, is to change the double-click to open files setting to single-click.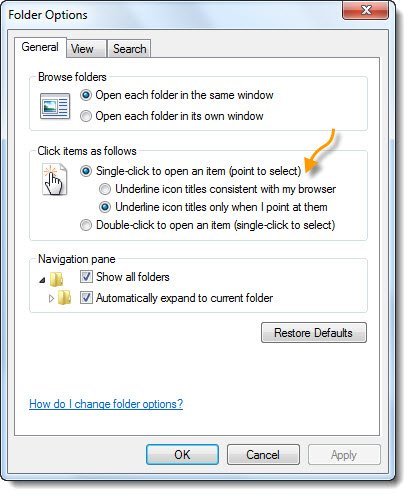 Change double click to single click
To effect this change, You will have to change a setting in your Folder Options (Windows 8/7) – now called File Explorer Options in Windows 10.
To do this, type 'Folder' in Start Search and click on Folder Options or File Explorer Options.
Here, under the General tab, you will see Click items as follows.
Select Single-click to open an item (point to select).
You may also want to select the Underline icon tiles only when I point at them option.
Click Apply > OK > Exit.
If you do this you need to click only once on an icon, with your Mouse pointer to open a file.
Need more Mouse tips? read this post on Mouse Tricks For Windows.