BackRex Internet Explorer Backup is a Backup and Restore Tool for Internet Explorer. It allows you to backup favorites, history, proxy settings, fonts, dial-up accounts, auto-complete passwords, and cookies.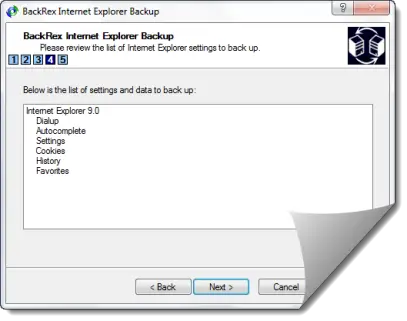 Backup Internet Explorer settings, favorites, password, history
BackRex Internet Explorer Backup can help you to move all your Internet Explorer settings from one computer to another, even if it has a different version of Windows and/or Internet Explorer installed. For example, you could backup  your IE settings from one PC and restore them to IE on another PC
It also has a Scheduled Backup feature that allows you to backup all your data on a regular basis – daily, weekly or monthly.
The following data and settings are saved and restored by BackRex Internet Explorer Backup, in Internet Explorer:
Favorites
Proxy & connection settings
Security zones
User customizations
Cookies
History
Dial-up accounts
Form Autocomplete entries.
Visit Home Page.