Gadgets put stuff like news, pictures, games, RSS Feeds, etc right on your Windows desktop. While they were lined up and attached to the sidebar in Windows Vista, Windows 7 sets them free and you can place them anywhere on your desktop.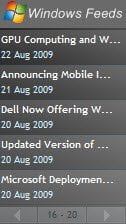 Add, Remove, Install, Uninstall, Restore desktop gadgets in Windows 7
The desktop gadgets are located in the Desktop Gadget Gallery. Once you add a gadget to your desktop, you can move it, resize it, and change its options, uninstall it or restore it again!
To install it simply double click on the Gadget.
To add a gadget to the desktop, right-click the desktop, and then select Gadgets. Double-click the gadget to add it to the desktop.
To remove a gadget from the desktop, right-click the gadget and select Close gadget.
To uninstall it, right-click the desktop, and select Gadgets. Now, right-click the gadget and select Uninstall.
If you have uninstalled a gadget that has come bundled with your Windows, you can restore it by simply typing Restore Gadgets in start search and hitting Enter!
You can download cool gadgets from the Windows Desktop Gadget Gallery.
You may also want to check out our Windows Feeds Gadget, these Fruity Gadgets or these 14 fine Aero Glass gadgets for Windows 7 & Vista.