If you are facing high CPU usage by IAStorDataSvc on Windows 10, then it's because of Intel Rapid Storage Technology. It appears as a Service which may result in not only high CPU usage but also high memory and disk usage, as well as overheating, and slow performance. Usually seen in HP computers, it appears on any PC using Intel Rapid Storage Technology. You will also notice that your Fan runs on high speed everytime this happens with average CPU usage spiking up to 50%.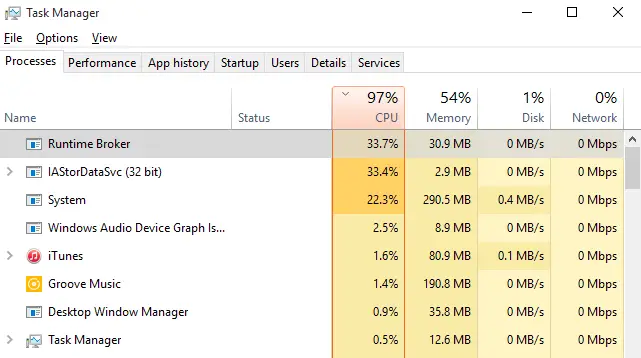 You should know that this service is used to speed up file access. However, if you are not using an SSD on your PC, then it's not necessary to keep it installed.
IAStorDataSvc High CPU Usage
Reinstall/Update or Remove IAStorDataSvc driver
You will have to choose between one of these options. The first thing we would suggest you is to download the latest driver from Intel Download Centre and install it on the PC. In case this doesn't work, you may want to remove the driver completely, and let Windows update find the right driver for you after a PC restart. Many a time drivers aren't compatible with the latest Windows upgrade, and it results in this kinds of issue.
Open Device Manager using the key WIN+X+M
Find the driver, right-click, and uninstall.
Restart your Windows PC.
You may also have to look into installed programs listed and uninstall any listing of Intel Rapid Storage Technology driver.
Disable IAStorDataSvc in Services Manager

In the Run prompt, type services.msc, and hit Enter.
Locate Intel Rapid Storage Technology services, and then double-click it.
Change the Startup type to Disabled.
Click on Apply and then OK to save the change.
Exit the Services window and see if the problem is resolved for you.
You can also access the running services list from the Task Manager.
Let us know if this helped you solve the issue.
Other posts about processes using high resources: