The computing environment is ever subjected to change but some of its services and products are not. I am referring to Google Reader – A service that was started in an effort to make it easy for readers to discover and keep tabs on their favorite websites but soon started losing popularity and usage, forcing Google to announce its shut-down. As a result, many started looking for Google Reader alternatives or RSS readers.
As a result, many are now looking for some good Google Reader alternatives or replacement.  Check out the RSS Readers that find a mention in this post. These services allow you to easily collect and organize web-based news and information from websites, without having you to visit them, individually.
Google Reader Alternatives & Replacement
Depending on your needs, you can choose to go with a desktop RSS Reader or an online RSS reader.
Desktop RSS Readers
GreatNews is a fast, free desktop RSS reader that supports full-page reading, so that you have full control over how many articles are displayed at once. One important highlight of this RSS reader is that it has a built-in display style using which you can avoid flashing ads and banners thereby providing a neat layout for reading. Moreover, you can import and export all your subscriptions and use labels to organize your articles.
GreatNews comes with a lot of included RSS feeds. You may want to review them and remove the one's you do not want. This freeware doesn't need .NET or Java runtime. Everything is included in the setup files.
RSS Owl is a cross-platform service i.e. compatible with multiple OS. The free and powerful news feed reader lets you search by keyword, group entries and view feeds in newspaper-style (side-by-side using multiple tabs). If you want, you can save selected information in different formats for offline viewing and sharing. There's even a support for an internal browser which helps you open the full content of an article from a feed. It requires JRE.
Online RSS Readers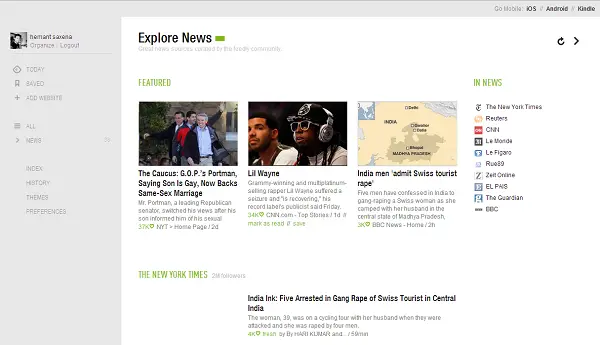 Feedly is available as a mobile application. Plus, it comes along as an extension or add-on for most browsers. It can be used as a Firefox Add-on or a Chrome extension. It is capable of synchronizing with your Google Reader subscriptions too. If there's an article on one device that you would like to save on another device for reading later on another device, you could easily do so. Thus, offering you a better way to organize, read and share the content from your favorite sites. Take a look at our post on Feedly Tips & Tricks.
NewsBlur is a personal news reader that brings people together to talk about the world. The Google Reader alternative makes migration from Google Reader fairly easy. Simply point, click, and in minutes you should find your feeds being checked by Newsblur. If required, you can save stories to a number of services such as Evernote, Instapaper and more. With NewsBlur, only stories that interest you can be highlighted. Rest, can be hidden from view. In short, you can make the service learn your preferences.
RSSMiner.net boasts an interface that may initially take time to get used to but once gotten used to, it may help you a lot. The reader lets you import your Google Reader subscriptions. You can find a side bar whose contents change when you click on a particular news item.
Let us know if you wish to recommend any other Google Reader Alternatives or RSS Readers.