It is the age of cloud computing, and everyone is trying to make the most of it. "Files anywhere" is a new concept. Most organizations are switching to the concept so that employees do not need to connect to the office network to access or edit documents.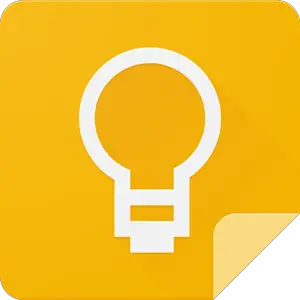 The idea of Google Keep is similar: Create Notes on-the-go, and store them on the cloud for later access, from anywhere, anytime. And it does look like a formidable alternative for Microsoft OneNote – simply because it supports voice input. You can use it easily via an Android app, plus you can sync it so that your notes are the same all over the world.
UPDATE: In case you did not know, Googe Keep has been rebranded as Keep Notes.
What is Google Keep Notes
I would call it an extension for Google Drive, for it is there where all your notes are stored. To be more precise, Google Keep is an app for Android that allows you to take quick notes and store them to Google Drive. That helps you when you are in a meeting, or an idea strikes you when you are traveling or taking lessons in school/college. You can simply type whatever you wish to store (there is no limit as to how many characters each note can store). That also means that you may go ahead and create a huge file containing all sub-topics related to some topic.
Recently, a person advertised that he was willing to offer USD 1000 for his stolen laptop. That was because all his thesis work was stored on that laptop – a year's worth of work. If he had used smaller things as SkyDrive sync or Google Drive sync, he would have easily recovered the work and passed his term. There are methods to recover lost smartphones and laptops, but we'll talk about them in a different post.
Until a few days back, I too was using a local copy of some app called MEmo for Android. In my case, most of my ideas strike me when I am outside or when trying to fall asleep. I can't get back to turn on the computer and note it down. The best way until a few days back was to open that MEmo app and note down the important points that I could expand later.
And now, when using Google Keep, I do not have to transfer the memos to the computer using Bluetooth or cable as I can simply log in to Google Drive and access the notes I created off the computer. I guess this explains what Google Keep is all about keeping the information you want in an easy to access place – from anywhere and anytime.
Advantages Of Google Keep Notes
The above explains the advantages of Google Keep very well. Since I did not mention some of the best features of Google Keep, I will create a list of its advantages here:
Create notes from anywhere – using Keep on your Android phone
Access the notes from anywhere, anytime – from your Android phone, another tablet, or maybe your PC
With Google Keep, you can also create a voice note if your hands are not free (but do not use the phone while driving – text or voice – as it is distracting; you may not love your life but don't put others at risk). The voice notes can be transcribed instantly using Google Voice.
You can color-code your notes to mark their importance and to mark complete to-do lists.
You can add check boxes to Google Keep note so that you can use it as a checklist (A To Do List in most cases). I love this feature as I can create my schedule away from the computer anytime – especially just before sleeping. I am sure most of you too get ideas when trying to sleep at night.
You can also take snaps and add to the notes.
Archive facility for older notes.
If you have turned off Sync to conserve battery and data charges, you will have to manually sync the notes. If you forget to sync, your note might not be available on Google Drive but since I suppose you keep your phone with you every time, you can sync instantly when you cannot find any of your note on Google Drive.
Cons & How To Access Google Keep Notes From Desktop
The only cons I have noticed with Google Keep is that there is no specific link in the Google Drive folder or anywhere on your Google account that leads to your Keep folder. In other words, you cannot see your synced notes just by typing in drive.google.com or simply by logging into your Google Account.
At the moment, the only way to access Google Keep from the Desktop browser is to type drive.google.com/keep. This link will show you all the synced notes. It also allows you to create, edit, and archive older notes. If you create a note on the desktop browser, that note will appear on your phone when you next sync the phone.
Let me know your thoughts!