This post covers some best free standalone malware removal tools to remove specific complex virus infections. We have covered some good antivirus and computer security companies that provide different tools to remove specific types of malware (like Trojan-Ransom.Win32.Rector, ZeroAccess, Wildfire Locker, Zeus, etc.), rootkits, and more.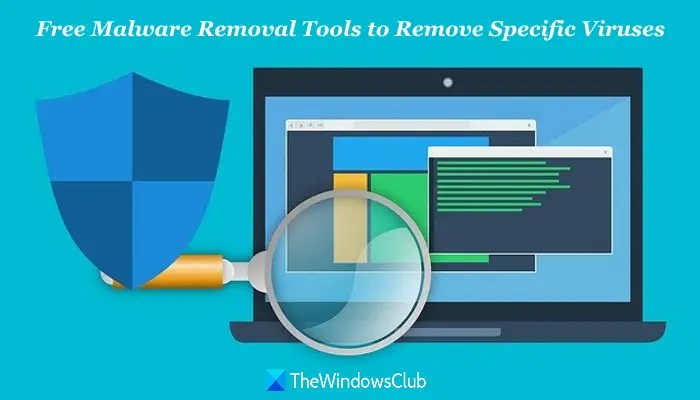 Though there are many good free antivirus tools, on-demand antivirus scanners, and Online Malware Scanners already available that can help you prevent viruses, malware, ransomware, etc., when you have to remove a specific type of malware, then such tools might not come in handy. Therefore, we have created this list.
Malware removal tools to remove specific complex virus
Here is a list of some well-known security companies that offer different malware removal tools for removing specific virus(es):
Kaspersky
McAfee
NoVirusThanks
ESET.
Now let's check the standalone tools provided by these companies.
1] Kaspersky
Kaspersky brings 10+ recovery and security tools. These are:
Kaspersky Anti-Ransomware Tool: This tool helps to protect from Rakhi, Bad Rabbit, Petya, WannaCry, TeslaCrypt, and Rannoh ransomware
Kaspersky Virus Removal Tool: You can use this tool to scan and disinfect your Windows computer
WildfireDecryptor: This tool can come in handy to decrypt WFLX files that are encrypted by Wildfire Locker
TDSSKiller: It helps to detect and remove malware from Rootkit.Win32.TDSS family. A lot of bootkits and rootkits like Rootkit.Boot.Backboot.a, Virus.Win32.Cmoser.a, Backdoor.Win32.Phanta.a,b, etc., can also be removed using this tool
RannohDecryptor: Use this tool if you need to decrypt files encrypted by Trojan-Ransom.Win32.Rannoh malware
ShadeDecryptor: It can help to decrypt files that are encrypted by Trojan-Ransom.Win32.Shade malware. Files with extensions like .tyson, .no_more_ransom, .crypted000007, .breaking_bad, .xtbl, .windows10, .heisenberg, etc., can be decrypted
CoinVaultDecryptor: This tool can disinfect a computer that was infected by the malware of Trojan-Ransom.MSIL.CoinVault family
ScraperDecryptor: lets you decrypt files that are encrypted by Trojan-Ransom.Win32.Scraper program
XoristDecryptor: Computer that is infected with Trojan-Ransom.MSIL.Vandev or Trojan-Ransom.Win32.Xorist malware can be disinfected via this tool
ScatterDecryptor: It lets decrypt those files that are affected or encrypted by a virus named Trojan-Ransom.BAT.Scatter
RakhniDecryptor: If files are locked with .kraken or .locked extensions, this tool can help you unlock such files. It can also help you unblock your computer
RectorDecryptor: Use this tool if your files are encrypted by Trojan-Ransom.Win32.Rector malware
Kaspersky Rescue Disk: If some malware has locked your computer and you aren't able to access it, then this rescue disk tool can be useful.
You can get all these free tools from the support.kaspersky.com webpage.
TIP: In case your files are encrypted with some ransomware, then you can check our list of free ransomware decryption tools that might help you.
2] McAfee
McAfee provides 8 different anti-malware tools. Here is a list of all those tools:
GetSusp: If you suspect that there is some undetected malware on your computer, then you can try this tool and check if it helps
Pinkslipbot Control Server Proxy Detection and Port-Forwarding Removal Tool: If a system was earlier infected with W32/Pinkslipbot (Qakbot/QBot) trojan, then chances are that system still be serving the malware as a control server proxy. If that is the case, then this command-line tool can be used to remove such vulnerability. Apart from that, this tool can also disable the Pinkslipbot control server proxy service (if present) on that system
FileInsight: Using this tool, you can analyze, view, and dissect suspicious downloads and files
Stinger: It can help you remove specific viruses like Generic trojan.kf, LNK/Downloader.ch, Ransom-LockBit, FakeAV-DZ, PS/Agent.bv, Trojan-Packed.c, and more
RootkitRemover: This standalone tool can help you detect and remove rootkits from Necurs, TDSS, and ZeroAccess family
Ransomware Interceptor: This anti-ransomware tool can help you prevent file encryption attempts made by some ransomware (like WannaCry). You can start monitoring for the entire system and also whitelist specific files/processes to disable their monitoring
McAfee Ransomware Recover (Mr2): If your files are encrypted by Stampado or some other ransomware, then this command-line tool can be helpful
Steganography Analysis Tool: This online tool can help you protect your media traffic that can be infected with malvertising, data exfiltration, etc. Just upload your image file (up to 1024*768 and less than 1 MB) and check if it is safe.
All these tools can be grabbed from mcafee.com.
TIP: McAfee Malware Cleaner will remove virus on Windows PC
You can also use Microsoft Windows Malicious Software Removal Tool to remove specific malicious software from your computer.
3] NoVirusThanks
NoVirusThanks comes with more than 10 standalone tools to remove specific malware. Here are the tools:
Anti-Rootkit: This system analysis tool is handy to detect the presence of rootkits and malware present. It can detect hidden drivers, processes, stealth DLL modules, etc
DLL Explorer: Helps to display the list of unique and non-system DLL files
File Governor: It can be used to unblock files and folders so that you can rename, delete files, etc
Malware Removal: It can detect and then remove spyware, rogue software, trojans, scan for browser hijacks, etc
Registry DeleteEx: This tool can remove locked registry keys and values that can't be deleted directly from Windows Registry and other traditional options
Stream Detector: It can find hidden Alternate Data Streams (ADS) on NTFS drives and then helps you delete unwanted streams and files
Zeus Trojan Remover: As its name indicates, this tool can delete all known variants of ZeuS banking trojan (known as Wsnpoem or ZBot)
Threat Killer: It helps to remove malware via different commands such as delete the Registry key, unload DLL, disable service, etc
Hidden Process Finder: It is helpful in finding hidden rootkits or processes that can't be detected using Task Manager or other process manager tools
Inf Remover: Helpful to delete Autorun.inf file (or Autorun Virus File) available in the root folder of attached devices (including USB drives)
DLL UnInjector: It can remove malware DLLs as well as unload DLLs from a selected process
Handle Tracer: It is helpful to list as well as search and manipulate open handles on 32-bit editions of Windows OS
Smart File Delete: for safely deleting locked files on the next reboot of your computer.
You can grab all these tools at novirusthanks.org.
Read: Internet Security article and tips.
4] ESET
Plenty of standalone tools are provided by ESET for removing different types of threats or malware. Some of those threats are Win32/Filecoder.AESNI.A, Win32/Codplat.AA, JS/Bondat.A, Win32/TrojanDownloader.Necurs.A, Win32/Simda.B, Android/Simplocker.A, Win32/Spy.Tuscas, Win32/Zimuse.A, Win32/Poweliks.A, Win32/Goblin.C.Gen, Win32/Filecoder.WannaCryptor, and more. Here is the list of the standalone malware removal tools provided by ESET:
Acad/Medre.A cleaner
AES-NI decryptor
Adware.SuperFish cleaner
Bedep cleaner
BlueKeep checker
Conficker cleaner
Superfish cleaner
Crysis decryptor
Crypt888 decrypter
Win32/Daonol.C infiltration
ESET Dorkbot cleaner
Eternal Blue checker
ESET Merond.O cleaner
Filecoder.NAC cleaner
Elex cleaner
GandCrab decryptor
Win32/IRCBot cleaner
Filecoder.AE cleaner
Filecoder.AR cleaner
Mabezat decryptor
Mebroot cleaner
Win32/Necurs cleaner
Poweliks cleaner
Retefe decryptor
Retacino decrypter
Sirefef cleaner
ZbotZRcleaner
TeslaCrypt decrypter
Trustezeb.A cleaner.
These tools are present at support.eset.com.
Hope all these tools will be helpful.
Related: How to remove virus from Windows 11/10.