Not everyone loves the all-new Windows 11 interface. If you are one of such people who want to roll back to the Windows 10 interface, you might want to try this program named – ExplorerPatcher.
ExplorerPatcher review
ExplorerPatcher is a small utility that can help you get the old Windows 10 charm back. As the name suggests, this tool will help you make some changes to your Windows 11 operating system and make it look like Windows 10. You can get the Windows usability features without doing much. This free tool is available for download on GitHub and takes less than a minute to land on your PC.
As this tool makes some changes to your system, it is advisable to create a system restore point before you download and start using it.
Make Windows 11 look like Windows 10
You first need to download the ExplorerPatcher from Github. Scroll down and then download the latest version of its setup program. It is a lightweight tool and will download on your PC in no time.
Open the file location and double-click to complete the installation. As the program gets installed, your Taskbar will instantly move to the left corner as it was in Windows 10, also the Action Center will be back in your system tray. You can further adjust the Taskbar settings too.
Some of its main features in a nutshell are:
Disable Windows 11 context menu and command bar in File Explorer
Open Start to All apps by default, choose a number of frequent apps to show, display on the active monitor
Choose between Windows 11 or Windows 10 taskbar with label support, small icons, and lots of customization.
Choose between the Windows 11, Windows 10 and Windows NT Alt-Tab window switcher with customization.
And many more!
Adjust the Taskbar Settings
Type ExplorerPatcher in your Windows Search menu and open it. It's a very simple application and you will see it all in the main overview, as shown in the screenshot below.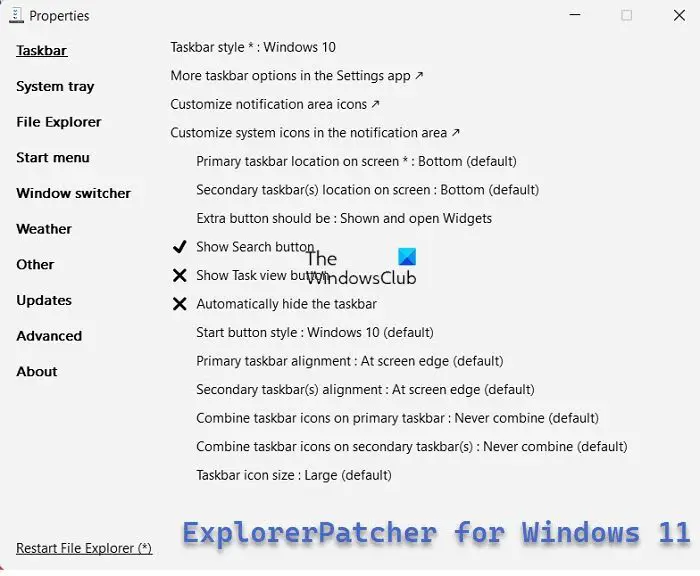 Go to the Taskbar tab and here you can select if you want to show the Search option or not, show the Task view button or not, or if you want to hide the Taskbar completely. The other setting options will take you directly to your PC Settings like changing the Taskbar position, system icons, taskbar alignment, etc.
Read: How to Auto Hide Taskbar in Windows 11/10

Go to the System Tray tab and you can select what all information you want your system tray to display. Also, you can adjust the other settings like- flyout behavior for tray icon, showing or hiding the touch keyboard button, show seconds clock, etc.
Read: System Tray icons do not work in Windows 11/10
Get Windows 10 Style Start Menu

Go to the Start Menu tab, it is by default set to Windows 11 but you can change it to Windows 10 with a single click. The Start Menu will change to the Windows 10 style but it will be displayed in the center only. Change the Position on Screen from Center to At Screen Edge and it will move to the edge, exactly how it used to be in Windows 10.
So if you are one of those users who were missing the classic Windows 10 Start Menu, ExplorerPatcher is for you. Additionally, you can change how many frequently used apps you want to show, disable the Recommended section, etc. Also, you can make the Windows 11 Start Menu open the entire list of apps.
Read: How to make Windows 11/10 look and feel like Windows 7
Snap Assist Style like Windows 10
If you want Snap Assist to be displayed in Windows 10 style or just want to remove the rounded corners of application windows on your PC, go to the Other tab in your ExplorerPatcher properties. Tick and untick the options here as per your preferences. You can choose to show separators between taskbar toolbars, show Command Prompt instead of PowerShell in the Win+X menu, disable rounded corners of the application windows and get the old square shape, and much more.
This is how this free simple utility can bring your Windows 10 interface back. Not completely, but it can at least make your Windows 11 PC look a lot like Windows 10 PC. But, after installing this program and making the changes, if you do not like it, you can, of course, uninstall the program and get your Windows 11 features and look back.
Download: You can download the ExplorerPatcher from Github.
How to uninstall ExplorerPatcher?
It's pretty simple to uninstall ExplorerPatcher and yes, all the changes you've made with this program will automatically revert when you uninstall it. Type ExplorerPatcher in the Search menu and click on Uninstall.
How to get the Windows 10 taskbar back in Windows 11
Download the free tool ExplorerPatcher and it will give you the old Windows 10 taskbar on your Windows 11 machine. The taskbar by default will appear in the center but you can change its position from the tool.
Read: How to get a Windows 11 like Taskbar in Windows 10.
How to disable rounded corners for applications in Windows 11
This free application ExplorerPatcher can help you disable the rounded corners for applications on your Windows 11 PC. Download the tool from Github and install it on your PC and go to the Other section, check the option saying, "Disable rounded corners for application windows" and you are done.
Read next: How to make Windows 11 Taskbar look like Mac Dock.