If you receive Error 651, The modem has reported an error in Windows 10/8/7 it means that the required system driver file has failed to run. The description, the error message bears mainly reads like this – Error 651: The modem (or other connecting devices) has reported an error. The good part is you do not need to worry about it there are quite a few ways via which you can fix Error 651 in Windows 10.
Error 651 The modem has reported an error
Before you begin, if you are using any VPN, uninstall the VPN software and then restart the computer to see if it works fine. If it doesn't help, read on.
1] Reregister raspppoe.sys file
Raspppoe.sys is a Windows RAS PPPoE mini-port driver file that allows your computer to communicate with hardware or connected devices. If there's any problem related to its functioning, you'll get the error.
Try to re-register the file and then check. For this,  click Start and in search window type 'cmd'. Right-click the option and select 'Run as administrator'.
Next, in the command window that opens type the following and press Enter.
regsvr32 raspppoe.sys
Once done, restart your PC to allow the changes to take effect and verify if the problem is resolved.
2] Restart your Router/Modem
When facing issues with your router, sometimes performing a reboot or restarting your router can help resolve these issues. You can try this by turning off the router for 5-10 minutes. If you have a LAN connection, you can unplug the cable for 5-10 minutes. Following this, switch the router ON or plug the LAN cable back to the machine and verify if the error 651 still appears on your computer screen or not.
3] Use latest Drivers for the Modem
From the Devices Manager, uninstall and reinstall the Modem. Or else, download and install latest version of drivers from the manufacturer's website and check if it helps
4] Reset TCP/IP or Internet Protocol
Reset TCP/IP to its default values, using the NetShell utility.
5] Run Network Troubleshooter
Open the Settings Troubleshooters page and run the Network Troubleshooter and see if that works for you. Or else, open Run box, type the following and hit Enter:
msdt.exe /id NetworkDiagnosticsNetworkAdapter
This will open the Network Adapter Troubleshooter.
6] Disable Auto Tuning Feature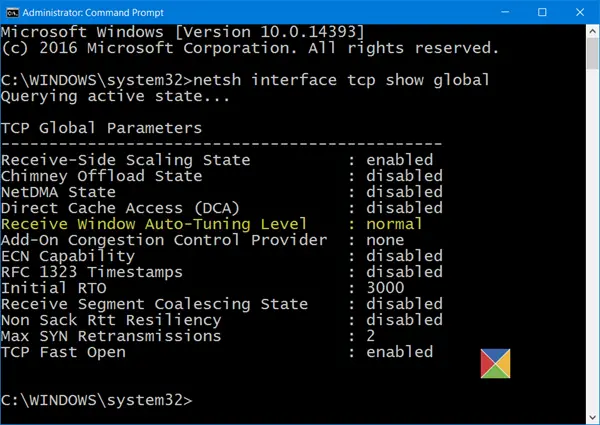 Auto-Tuning feature in Windows is known to improve performance for programs that receive TCP data over a network. Following the release of Windows 7, the feature was made available for programs that use the Windows Internet (WinINet) application programming interface (API) for HTTP requests. Some examples of programs that use WinINet for HTTP traffic include Internet Explorer, Outlook, and Outlook Express. So, if there's a problem with it, you may notice the error. Disable the auto Tuning feature in Windows 10 to see if it solves the problem.
Let us know if anything here helped you.