DeleteOnClick is a simple and easy-to-use application for Windows. It helps you erase files and folders securely and permanently.  Now, you may think about whether such an application is really needed when you can press Shift+Delete to delete any file or folder. In order to understand the mechanism, you must first understand how Windows works when deleting any folder or file.
When we delete any file or folder, it is moved to Recycle Bin. And then, we have to go to recycle bin to permanently delete that file. However, in reality, the file or folder isn't permanently deleted by Windows. But instead, the space occupied by that particular file or folder is made available for new ones. Hence, the data, though deleted from recycle bin, is still recoverable. In case you write new data or save changes made to the existing file, then this space is utilized and the earlier data is erased permanently.
Erase files and folders securely with a click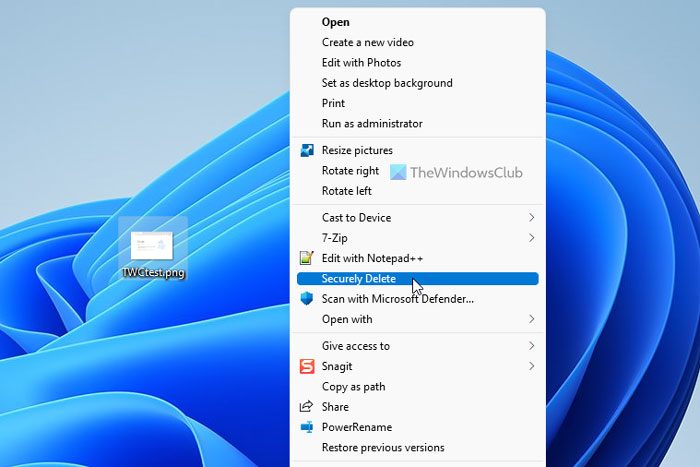 DeleteOnClick offers a freeware version too. The biggest role that this kind of application plays in deleting any file or folder is that the data is wiped from the system completely. Sometimes, this is what we want; erasing the data in such a way that it is unrecoverable. And DeleteOnClick app does exactly that.
DeleteOnClick is a file and folder deletion tool with the help of which you can delete files securely. In order to do so, DeleteOnClick makes use of the US DOD 5220.22-M secure file deletion standard.
Using this application is easy. Just download it from its official link and run the setup. To complete the installation process, you need to restart your computer. When using, just right-click on that file or folder and select 'Securely delete'. The paid version of DeleteOnClick has other options for wiping free disk space, that erases the 'free' looking space, which is in fact occupied by normally deleted data. When you click on Securely Delete, a warning message appears asking whether you really want to delete that particular file or folder.
DeleteOnClick freeware version
There are numerous advantages offered by DeleteOnClick:
The files deleted using DeleteOnClick cannot be recovered, so it's a secure deletion.
Simple usage, with right-click on the mouse.
It produces a warning message where you really want to delete the selected file or folder, in case you change your mind. This is particularly necessary; because the files once deleted, cannot be recovered; ever!
It displayed the deletion process, which is useful when deleting bigger files.
However; you must consider the following disadvantages as well when using DeleteOnClick:
In order to install the app, you have to restart your computer. Without restarting, the app won't be installed completely.
The free version comes with limited features. To get all the features, you need to buy the paid version.
It requires rebooting if you want to uninstall DeleteOnClick.
The app doesn't let you make any changes in its setting. (Actually, this is also an advantage, as it will keep on displaying the warning message and do mundane stuff, avoiding the risk of deleting something accidentally.)
DeleteOnClick is one of the simplest deletion tools. Give it a try with its free version and let us know your thoughts as well. Go get it here. On the right side, you will see a link to "Download the less powerful Freeware Version of DeleteOnClick".
Go here if you want to check out some more freeware that lets you delete files permanently in Windows 11/10.
How do I securely delete files on Windows 11/10?
As there is no direct option in Windows 11 or Windows 10 to delete files securely, you need to get the help of third-party programs. For that purpose, DeleteOnClick seems to be a good option for Windows 11/10 users. Although it is possible to recover Shift+Delete used files, you cannot recover files deleted by the DeleteOnClick app.
How do I permanently remove sensitive files and data from my computer?
There are mainly two ways to permanently delete or remove sensitive files and data from your computer. First, you can use the in-built method – Shift+Delete. Second, you can use third-party programs. If you want to opt for the second method, you can take a look at the DeleteOnClick app.
Hope it helped.