Edge replaced Internet Explorer as the default browser in Windows 10. At its core of the new Edge browser, lies Chromium rendering engine that offers better compatibility with PWA apps. This post walks you some cool Edge Browser Tips and Tricks that will help you get the best of this new web browser and its features, in Windows 10.
Edge Browser Tips and Tricks
At the very start, you can see 'Settings and more' option, visible as three dots. Clicking it displays a list of options that you can access to tweak the browser settings. Let's dive in!
1] Customize Edge Browser
Although Edge does not offer many customization options as seen in Internet Explorer, the browser features some useful improvements. Visit this page if you would like to customize the Edge browser.
2] Enable Dark Theme
By default, the theme for the browser is set to 'System default' . However, you can change this in an instant and set it to 'Dark Theme'. Using dark themes limits the intensity, conserves battery and makes it easier to work long hours. Read Enable Dark Theme in Edge for details.
3] Change Default Search

The default search engine in Edge is Bing. So when you type a query into the address bar, don't expect the results to come from Google. But, if you want, you can change this setting and even add additional search engines to the browser. You can include Google or any other search engine in the list of Edge browser. Our post on how to change Default Search to Google in Edge offers step-by-step instructions in this regard.
4] Set Multiple Homepages
A home page is the main page of a website where visitors can find hyperlinks to other pages on the site. Also, it is a web address that opens automatically when you launch the web browser. Here, you can set your favorite website, blog or search engine as your home page or you can set a blank page too. Like all web browsers, the new Edge too, lets you configure multiple homepages. Just access 'Settings and more' menu > 'Settings' > 'On startup' > 'Open a specific page or pages' > 'Add a new page'.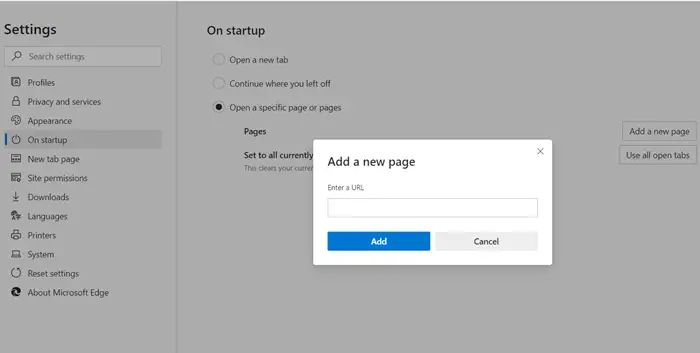 Then, enter the URL of the homepage and you are good to go!
5] Edge keyboard shortcuts
Keyboard shortcuts are something that every browser supports. Microsoft's browser is no exception to this rule. You can use these shortcuts to fasten your navigation process. For example, you can bookmark a website by simply hitting CTRL+D keys in combination and choose a folder to save the bookmark. See the complete list of these browser keyboard shortcuts.
6] Manage passwords & autofill
Do away with the requirement of saving passwords manually! The process can be simplified by enabling the Form-fill option. This feature configures your browser to fill the web forms, automatically. Refer to our earlier post – Manage Passwords and Form-Fill.
7] Add a Home button
The Home button represents a physical button that aids the navigation by taking users directly to the Home screen (starting point of the site). It is turned off by default in Edge Chromium but you can add it anytime. See this post for more details –  add a Home button.
8] Import favorites into Edge
Now, when you download the latest version of the Edge, the browser prompts you to set it as your default browser. Alongside this, it also requests you to import your favorites from other browsers? You can enable the browser to proceed with this task or reject it, outright!
9] Customize Edge New tab page
The New tab page in the Edge browser now features  4 new modes. This helps you customize the experience to fit your preferences. See 'Change New Tab Page layout in Edge' to know the complete procedure.
10] Make a Web Note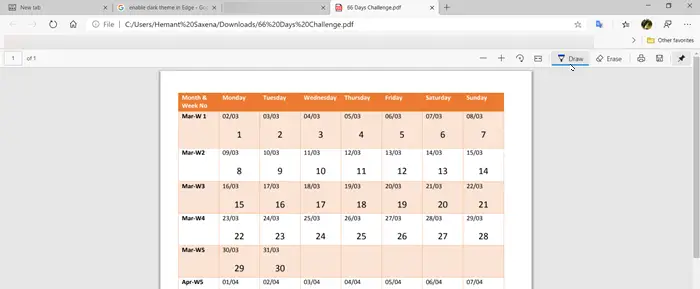 Edge is the only browser available to date that allows you to annotate a web page right on the screen and then save your markings as notes. It lets you take notes, write, highlight directly on web pages or scribble on the web. To check this, open a PDF file with Edge and you'll see the 'Draw' option below the address bar that will allow you to create WebNotes, readily.
11] Show the Favorites bar
You can show the Favorites bar by pressing and holding the 'favorites bar' as shown in the image above. Then, simply click/tap on 'Show favorites bar', and choose the desired option Always, Never, or Only on new tabs (default) for what you want.
This option is not available as a context menu item, as in Internet Explorer.
12] F12 Developer Tools
In case you are interested in developing add-ons for Microsoft Edge, you might want to know about developer tools provided by Microsoft.  To access the F12 Developer Tools, all you need to do is to click and open the More actions menu and select "F12 Developer Tools". This will automatically launch the tools undocked. As a Developer, you might be excited to use the Network tools. Use the to change User Agent, Mode, Display, Geolocation too.
13] Open a web page in IE
If for some reason, you need to open a web page, which you have already opened in Edge, in Internet Explorer, click on More actions, and then on Open with Interner Explorer. Ie will instantly open that web page.
If you are an IE lover and want to use it, see this post on how to open Internet Explorer in Windows 10.
14] Pin Edge Browser website shortcut to Start Menu
If you visit a website frequently and would like to pin its shortcut to the Start Menu, it is simple. Just visit the website using Edge and click on the 3-dotted 'Settings and more' button, choose 'More Tools' > 'Pin to Start', and its icon will get pinned to the Taskbar.
15] Install extensions in Edge browser
You can now install extensions in Edge from outside Microsoft Store to enhance your web browsing experience. You can also install extensions from the Chrome Store.
16] Auto-Hide the address bar
Press F11 to go full-screen. The Edge address bar will auto-hide. To make it appear, simply move the mouse to the top edge.
There's more! You might take interest in checking out some of the features of the Edge browser so that you are completely familiar with all the features of the web browser. It talks about how to Delete browsing history and cache, Share web pages, use Reading View, create Reading List, use the built-in PDF Reader, the Hub, Sync Support, Page Prediction feature, support for Dolby Audio and more. There are also some new security features in Edge you may want to take a look at. Having done this, you might want to also take a look at and configure
Having done this, you might want to also take a look at the following:
We will keep adding new tips and tricks for the Edge browser as and when they are available in the future. In case we missed anything, please share it with us.
If you liked this post, you might want to check out Windows 10 Tips and Tricks too. Chrome users may want to take a look at this Google Chrome tips & tricks post and Firefox users, this Firefox tips & tricks post.