Microsoft has made available the trial version of Windows 8 Enterprise Edition as a free download for developers and Windows enthusiasts. The download is in the form of ISO images and is available for 32-bit as well as 64-bit platforms.
Windows 8 Enterprise Edition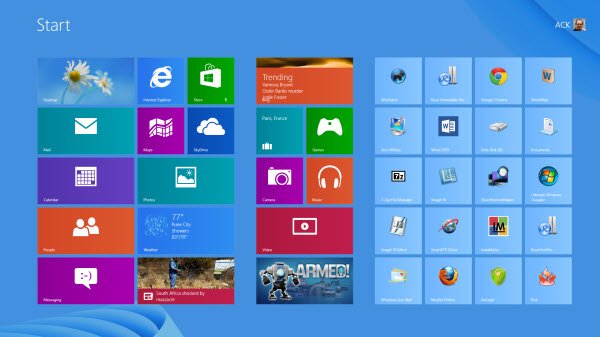 The download is available in the following languages: Chinese (Simplified), Chinese (Traditional), English, English (UK), French, German, Italian, Japanese, Korean, Portuguese (Brazil), and Spanish. You can use this Windows 8 Enterprise Edition Trial Version for 90-days, after which you will have to uninstall it.
So if you are planning to buy Windows 8 anytime soon, this is a good opportunity to download it and try it out for free. Do note that the trial edition will expire and you will not be able to upgrade it. You will have to uninstall the trial and then install Windows 8 de nova from its original installation media. It might therefore be a better idea to run Windows 8 Enterprise Edition Trial Version in a virtual environment, thereby allowing you to upgrade your original Windows installation to Windows 8.
You will be required to login with your Microsoft Account during installation and activate it within 10 days of its installation. No product key is required for it. If you fail to activate it within 10 days or on expiry of the 90-day evaluation period, your desktop will turn black.
Windows 8 System Requirements
Windows 8 works on the same hardware that powers Windows 7:
Processor: 1 gigahertz (GHz) or faster
RAM: 1 gigabyte (GB) (32-bit) or 2 GB (64-bit)
Hard disk space: 20 GB
Graphics card: Microsoft DirectX 9 graphics device with WDDM driver.
Windows 8 free download
Download Windows 8 Enterprise Edition Trial Version : 32-bit | 64-bit.
Microsoft does not provide any kind of support for this trial version, but if you have any questions, you are welcome to ask in our TWC Forums.