Whats a Blue Screen if it isn't blue in color…right!? A blue screen that's not blue can definitely be disconcerting for anyone. Mark Russinovich has described how to use local kernel debugging to change the colors of the Windows crash screen, also known as the "blue screen of death".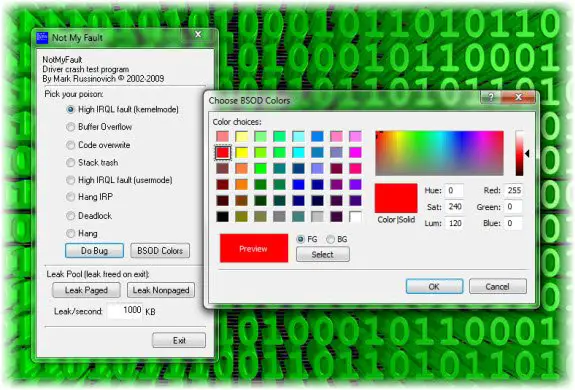 Designer Blue Screens for Windows PC
No doubt showing off a green screen of death or red screen of death to your friends and family is fun, but the steps involved are too complicated.
So what they have done is that they have modified Notmyfault, a buggy driver demonstration tool that Mark wrote for the book and his crash dump analysis presentations.
To set a custom designer color for your Blue Screen, download Notmyfault from Sysinternals.
Simply make your color section in the new BSOD color picker dialog, press the "Do Bug" button, and to preview and enjoy your creation!
Read the details here and download Notmyfault from Sysinternals.
Looking for a Blue Screen Screensaver? Check this one from Sysinternals!