If the sound volume on your Windows computer has become too low, here are some possible solutions that you can use to fix the problem. The issue may be caused due to a software or it could be hardware-related. Windows comes with some essential settings that need to be perfect to get good sound quality. If your computer volume is too low on Windows 11/10/8/7, follow these steps and see if anything helps you fix that issue.
Computer sound volume too low
Go through the list and then decide which of the suggestions you'd like to try first.
Update the Audio driver
Clean speakers physically
Check with another device
Check Communications settings
Check Loudness Equalization
Increase Media Player sound
Run Audio Troubleshooter.
1] Update the Audio driver
This is probably the first thing that comes to our mind. Whichever sound system you are using it is imperative that you have the latest device drivers installed on your computer. So update your drivers. You may use a third-party driver updater software or better still, you may use the tool for your brand of PC like say, Dell Update Utility, HP Support Assistant, etc. You will probably see these utilities pre-installed on your system.
2] Clean speakers physically
If you have been using the same speaker for a long time, there might be dust on it, which often blocks the sound from playing smoothly. Check if your speakers are clean from the inside as well as outside. If not, make it clean and test whether it is giving a better performance or not.
3] Check with another device
If you are getting this problem with a Bluetooth speaker or a wired speaker that comes with a woofer, you should connect that device to another device so that you see if the problem lies in your computer or the speakers itself.
4] Communications settings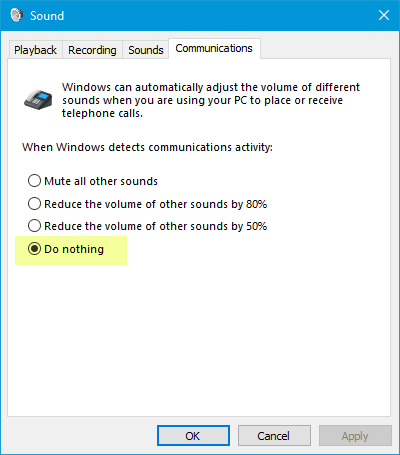 This is an inbuilt Low Volume feature that helps users get better audio when you use your computer to place or receive phone calls. It can reduce your sound by up to 100%. Open the "Sound" settings window. You can search for that in the taskbar search box if you are using Windows 10. Otherwise, right-click on the volume icon in your system tray and select Sounds. After that, switch to Communications tab. Here, make sure Do nothing is selected. If not, select that option and save your change.
5] Loudness Equalization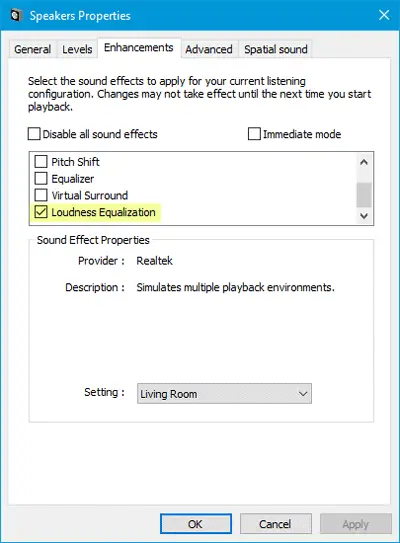 This is another setting that you need to check. If this option is not activated, you will hear a comparatively lower volume. Again open the "Sound" settings. In the Playback tab, select the playback device and hit the Properties button. After that, go to Enhancements tab. Select Loudness Equalization and save your changes.
6] Increase Media Player sound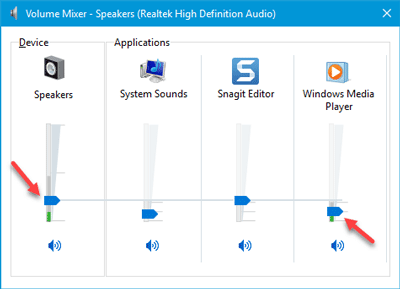 Sometimes, even if you increase the volume using the volume icon in your system tray, you will end up getting a very low sound. That's because two different volume levels work when you play an audio track, i.e., Speaker's volume and the Media Player's volume. Even if you increase the speaker's volume, the media player uses the same volume level.
There are two ways to increase that media player's volume. First, you can open the media player you are using and check if the volume level is set to 100% or not. Second, you can open the Volume Mixer from the system tray, and do the needful.
7] Audio Troubleshooter
Press Win+I keys to open Windows Settings and go to Update & Security > Troubleshoot. On the right-hand side, you should find Playing Audio. Select it and click on Run the troubleshooter button and follow the on-screen instructions.
Hope these suggestions will be helpful to you to fix your problem.
Related reads: