You are here, probably because you have decided to upgrade to Microsoft's latest operating system, Windows 8. If you have downloaded the ISO image from Microsoft, you might want to first read this tutorial on how to burn ISO image to DVD. Now that you have a bootable Windows 8 DVD setup ready, you are all ready to go.
Install Windows 8
This article will give you a step-by-step screenshot tutorial of how to clean install Windows 8 on your computer. You may click on the images, if you need to see their larger versions.
First, insert the setup DVD into your computer and restart it. On restart, after you see your boot screen. Your PC will either directly boot from the DVD or you may be asked to Press any key to boot from CD or DVD… Do so, if so requested.
You will soon see the now familiar Windows 8 flag.
You will next be asked to select the Languages to install, the Time and currency format and the Keyboard or input method. Click on Next, once you have made your selection.
If you wish to repair your PC, click on Repair your computer, else click on Install Now.
Setup will now start.
You will now be required to enter the product key to activate Windows 8. Enter it and click on Next. Depending on your key, the setup will go on to install Windows 8 or Windows 8 Pro version.
Accept the licensing terms and click on Next. If you are fastidious about these things, you may want to read the whole terms. It's an education in itself! But if you are like the majority of us, simply check the box, lay some trust on Microsoft and click on Next!
Now what would you like to do! Would you like to upgrade your current Windows installation to Windows 8, or would you like to go ahead with a clean install. If it's the former, click on Upgrade: Install Windows and keep files, setting and applications. Assuming that you have already backed up you data and documents to another drive or external media, I'd recommend you go in for a clean install. Click on Custom: Install Windows only (advanced) to do a clean install.
Setup will now ask you, where you'd like to install Windows 8. Select the drive carefully where you want Windows 8 installed. Clicking on the button on the bottom right edge, will give you more disk options like: Refresh, Delete, Format, New, Load driver and Extend.
It might be a good idea to Format your drive on which you plan to install Windows 8. So once you have carefully selected the drive, click on Format.
Do remember that once you format a drive, all data will be erased. So double-check where you are clicking, or you might just end up formatting the wrong drive … like I did!  Yes – I did accidentally format my Windows 7 Partition 3 instead – before I formatted the drive where I wanted Windows 8 installed. Fortunately for me, I take regular backups!
Setup will now commence installation in the following order:
Copy Windows installation files
Get them ready for installation
Install features
Install updates
Finish with the installation.
Now would a good time as any to get yourself a coffee or something – no point just staring at the screen and wait for the installation to complete.
Windows will now restart, once this step is completed successfully.
On restart you will find it getting your devices ready for you.
You will soon be offered a chance to personalize the Windows 8 colors and give the PC a name.
You can now get online using your Wireless network. If you don't want to do that now, click on the Connect to a wireless network later option.
You can now customize your Windows settings or go with the recommended express settings, which include, turning on of settings like Automatic Updates, SmartScreen Filter, Do Not Track in Internet Explorer, etc. You can always change the settings later on, if you wish, via your Control Panel.
You will now be required to sign in to your PC. You may use your existing Microsoft account to sign in, create a new one and then use it for signing in or create and use a Local Account.
Windows will now finalize your personal settings and then offer you a short animation tutorial on how to begin using Windows 8.
The tutorial is a short one and is intended to help get people started with Windows 8.
Once the animation is over, you will land on your Start Screen.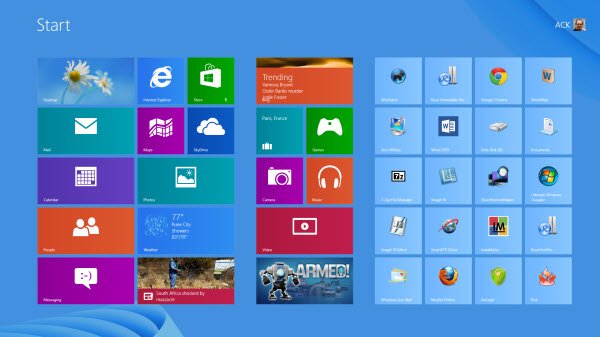 Welcome to the world of Windows 8!