Bitdefender has just released its new experiment in anti-malware, the Bitdefender Rootkit Remover. Rootkits for Windows are typically used to mask malicious software from an antivirus program. It is used for malicious purposes by viruses, worms, backdoors and spyware. A virus combined with a rootkit produces what as known as full stealth viruses. To apprise users of Rootkits and emerging threats,  Microsoft Malware Protection Center has already made available for download its Threat Report on Rootkits.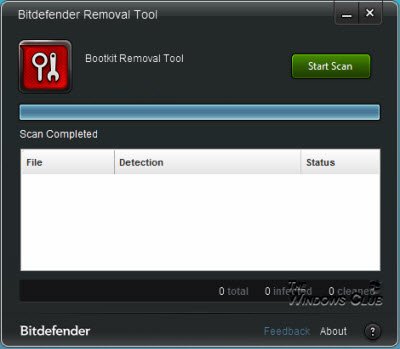 The Bitdefender Rootkit Remover removes all known Rootkits. It is a portable tool that can be launched immediately, without needing to boot into Safe Mode first- although a reboot may be required for complete cleanup.
BitDefender Rootkit Remover helps remove Mebroot, all TDL families (TDL/SST/Pihar), Mayachok, Mybios, Plite, XPaj, Whistler, Alipop, Cpd, Fengd, Fips, Guntior, MBR Locker, Mebratix, Niwa, Ponreb, Ramnit, Stoned, Yoddos, Yurn, Zegost and also cleans infections with Necurs. But the tool will be updated as and when new rootkits are found.
Clicking on Start Scan will commence the scan which takes less than 5 seconds. Once the scan is over, irrespective of whether rootkits are found or not a message is displayed to the effect that, the removal process has been completed successfully. This could confuse users. A simple message: Malware found/Not found/Reboot to clean malware, etc. would be preferred.
What is also confusing that although BitDefender calls it a BitDefender Rootkit Remover on its website, the program UI clearly says Bootkit (A kernel-mode rootkit variant is called a bootkit) Removal Tool or BitDefender Removal Tool. Maybe BitDefender misspelled the first one and forgot to insert the word Rootkit in the second one. The About window too seems to have been put together in a hurry.
Before exiting, the tool does gently remind you to check out BitDefender's products. Bitdefender Antivirus Plus 2013, Bitdefender Total Security 2013 and Bitdefender Internet Security 2013 are some of the very popular products from its stables.
The free tool is available for Windows 32-bit and 64-bit editions and you can download it here.
You may also want to check out other free Rootkit Remover software.
BitDefender also offers several other free tools for Windows, you may want to have a look at: