Bitdefender has launched a free virus scanner that scans your Windows computer in 60 seconds flat. Called Bitdefender 60-Second Virus Scanner, the product works whether another antivirus software is installed on your computer or not. It is easy to install and super intuitive.
Bitdefender is an excellent anti-malware software and its performance was confirmed again in September with the latest results from independent testing. The anti-virus company has the highest year-to-date score in AV-TEST's rigorous, independent trials, beating competitors including Norton, Kaspersky and McAfee the independent lab's test results.
Once you have downloaded the 156KB installer file, it will download and install Bitdefender 60-Second Virus Scanner in your Program Files folder.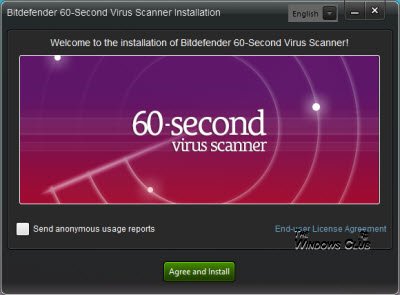 The program folder will take up around 30MB of your disk space. Clicking on Start Scan will start the scan. The scan will scan the critical areas of your Windows computer to check for malware. If found, it will say so in the report and urge you to buy one of their security products. If the scan is clean, it will say so in its report.
Bitdefender 60-Second Virus Scanner takes full advantage of "Cloud" scanning technology. Best of all, the app works perfectly with any other antivirus software. The tool is fast and works efficiently – but it is ad-supported. If malware is found it will recommend one of its antivirus software. If the scan shows up clean, it will recommend you to buy its Windows Tune-up Service. If you can live with that its fine – you can always rely on Bitdefender, if ever you need a second opinion.
The company has released a Infographic, which takes a rather humorous view on what all one can do in 60 seconds! Check it out!
If you are looking for a more detailed solution you might want to check out Bitdefender Internet Security 2013. You can read our review here.
BitDefender also offers several other free tools for Windows, you may want to have a look at: