Laptops are an essential part of life for many of us. They travel with us to our work, school and sometimes even on vacation. But what if your laptop battery dies when you are on the go and are just unable to charge it?  The ability to use your laptop is limited by the amount of battery available when you are away from an outlet.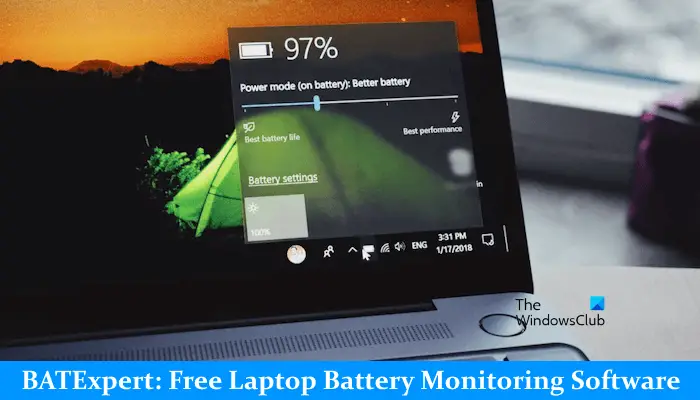 Laptop Battery Monitoring Software
Laptops need proper care and maintenance and to tell you the truth batteries are one of the weak links in laptop computers. BATExpert is a battery diagnostic software that helps users visualize the status of their laptop battery. It is a simple program and can be run on any type of laptop.
While we can always find out the current status of batter by hovering the mouse over the battery icon in the taskbar of our laptop, this program tells you much more about the battery.
This tool shows you the current status of the battery installed in your laptop and also provides other detailed information about it like the battery type, manufacturer, voltage and temperature, etc. The simple and intuitive interface makes it an easy to use tool. There is also an additional tool to BATExpert which warns the user about poor battery condition.
The lightweight installation takes just a few minutes. BATEXpert launches as soon as you are done with the installation. The main overview says it all and its entire features are displayed simply in an organized way.
The main overview of BATExpert is divided into 6 sections-
Status – The first section shows the Status of battery with its charging level in percentage followed by the second indicator which shows you the information regarding the voltage of your laptop. The third indicator in this section shows the power of the laptop battery and its remaining battery time.
Manufacturer – Here you can see the details about the manufacturer of your laptop battery.
Chemistry – This section shows the type of your laptop battery, for example (Lithium Ion)
Health/Wear – This is the most important detail about the laptop battery as it shows its actual health. It displays results in percentage, where lower values indicate problematic health.
Temperature and Charge Cycles are the 5th and 6th sections. Well! I am not sure why BATExpert is showing N/A (not available) here.  I guess these details are not made available for my laptop battery.
BATExpert download
BATExpert despite being a simple program tells you all about your laptop battery. It lets you know if your laptop battery is doing fine or needs a replacement. You can download it from its home page, where you will be able to see the Softpedia or Majorgeeks download links. If you wish to download from their site, download the Lite Installer, which does not include third-party offers.
How to check battery cycle in cmd?
A battery cycle is also called charge-discharge cycle. It starts when a device is completely charged and ends when the device is completely discharged. You can view your laptop's battery cycle in cmd by generating the battery report. That battery report contains the information of battery cycle.
To generate the battery report, open the Command Prompt, type the following command, and hit Enter.
powercfg /batteryreport
Where is battery setting in BIOS?
Laptops of different brands have different BIOS settings. For example, in HP laptops, the battery settings are available under the System Configuration tab. You can visit your product manufacturer's official website to know about your BIOS settings. Also, depending on your laptop model, you may have some additional battery settings, like limiting the battery charge.
More posts about your Battery that are sure to interest you: